VIRGINES METALLUM
Various Artists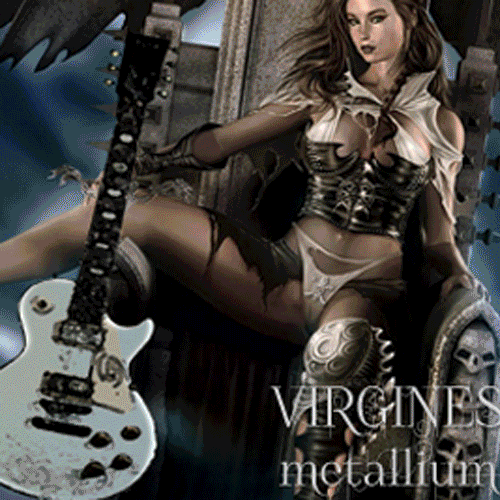 Virgines Metallium
A Tribute to the New Maidens of Metal" (DR027)
PROMOTIONAL VIDEOS
Femme Fatale
Hollywood, California
FEMME FATALE "It's been 25 years since the band was born," Lorraine Lewis leader of FEMME FATALE explains. "I thought it would be a great way to celebrate everything that we'd done and open the door to the future. "That future got bright once Lorraine assembled an All Star cast of all female players for the 21st century incarnation of FEMME FATALE. It's the first time in the group's history that it has featured all females in its ranks. She enlisted shredders Nita Strauss of Consume the Fire & The Iron Maidens, Courtney Cox of The Iron Maidens, Janis Tanaka on bass, whose credits include Pink & L7, Rachael Rine formerly ofCockpit, Athena, another drummer & one of the stars of the reality show - Ex Wives of Rock on Fuse TV, & Katt Scarlett on keyboards. "I always wondered what it would be like to play with an all-girl band," Lewis goes on. "Nita and Courtney are shred masters. Their guitars solos are flawless. Since I'm from the David Lee Roth 'School of Rock', I love all the flying hair and boobs.Rachael is a slamming drummer, and Janis crushes on bass so the rhythm section is smokin' and powerful. Katt is a great keyboard player and singer. Add Athena to the mix, and we reach a whole new level of crushing. It's a group of super-in-your-face females who know how to play, how to put on a show, and love rocking their asses off. We're bringing sexy back." Sexy has certainly returned as this wild crew will reinvigorate and recharge classics like "Rebel", "Waiting for the Big One", "Fallin' In and Out of Love" and more. Now is Femme Fatale's time. "We want to give fans a chance to remember what rock 'n' roll is all about," concludes Lewis. "What is that? Rocking your ass off."
GYPSY FLIGHT
San Francisco, California
GYPSY FLIGHT is a Hard Rock band from the East San Francisco Bay Area and a contributor to resurgent wave of this genre of music. Formerly known as X-Ray Conspiracy, GYPSY FLIGHT has a pleasing blend of melodic vocal lines to go along with their hard edge rhythms GYPSY FLIGHT delivers Hard Rock music with an updated vibe. Watch for live shows as well as a debut CD release in the near future. In the meantime, enjoy the GYPSY FLIGHT tracks available on ReverbNation and spread the word to Hard Rock enthusiasts all around about GYPSY FLIGHT.
Training Icarus
South East London
Training Icarus is fronted by Powerhouse female vocalist Leigh Turner and taking influences from a range of music from Nightwish and Iron Maiden through to Jean Michel Jarre and Rammstein. Training Icarus has a pronounced captivating sound with strong melodic vocals, the soaring guitars of Martin Eldon, the crunching bass of Leigh's brother Jayson, and solid old school drums of Michael Bates. In 2011 Training Icarus won the Kent Metal to the Masses event which led them to a slot at Bloodstockalongside the likes of Hammerfall, Hell, Wasp and Exodus winning rave reviews and have also gigged with the likes of Blaze Baileyand Tesseract. The live performance is to be both seen and heard to be believed and it is now time for them to take things to a whole new level both live and realized on Training Icarus debut title Stand Aside.
Lilly Rouge
Gold Coast, Australia
Hard-hitting rockers, LILLY ROUGE are an exciting and edgy four piece from the Gold Coast, Australia. Pairing dark lyrics with powerful female vocals and memorable riffs the four piece have set themselves up for a huge 2013! Kicking off the year with an electrifying set at the Gold Coast Big Day Out , LILLY ROUGE then went onto release their second EP- 'Black Blood' at the Hard Rock Cafe in Surfers Paradise to rave reviews. The release has been described as "sleek and immediate" (Jan Wisniewski; BEAT Magazine March 2013), several tracks being picked up for national and international airplay. After playing alongside some of the best acts in the world such as Red Hot Chilli Peppers, The Killers, Dead Letter Circus, and supporting the likes of Everclear, andThe Presidents of The United States of America. It is no wonder the band have sights set on world domination. Embarking on a ten date Australian East Coast tour from May to June and LILLY ROUGE is planning a tour of America in July and August! There is no slowing down for this four piece who also have a full length release in the works.
Alhena
Bydgoszcz, Poland
ALHENA was formed in January 2010 in Bydgoszcz as a realization of passions for making own music visions by people who met shortly after leaving previous music groups. It was found by: Piotr Kowalski andPiotr Grugel. In such a make-up the group began intensive work on composing material. It resulted in an EP, on which five tracks showed up. The recording took place from July to September 2011 in MG-Studio in Bydgoszcz under Marcin Grzella's supervision. After a few concerts promoting the recorded material, warm reception from the audience and many favorable opinions in the media, both local and foreign, ALHENA decided to start working on the material for their debut album. ALHENA is: Natalia "Natt" Bassak (vocals), Tomasz Bogulski (guitars), Piotr Kowalski (synths), Piotr Grugel (drums), and Grzegorz Ostrowski (bass)
Awaken Solace
Brisbane, Australia
Combining a theatrical mix of orchestral power metal, medieval baroque and fantasy-inspired soundtracks, Brisbane symphonic metal band Awaken Solace deliver a feast of pure musical indulgence that slates their place in the Australian female-fronted metal scene. With the launch of their debut album 'In Nightfall's Embrace' in June 2012, and their stage debut only a few months earlier that February, Awaken Solace's career has been fast paced and progressive, having already shared the stage with such internationally prominent metal acts as 'APOCALYPTICA' (Finland) and 'KAMELOT' (USA, Germany, Sweden). Immediately after its release 'In Nightfall's Embrace' (a release mixed and mastered by Caio Duarte, Broadband Productions, Brazil; and including two choirs & a selection of guest instrumentalists), has received an extensive amount of international attention on the femme and wider metal scene, with reviews and sales circulating from as far as the United Kingdom, United States, Japan, Brazil, Czech Republic, Hungary and The Netherlands to name a few. The album has also received regular international air play on digital and FM radio in the UK, Poland, The Netherlands, and Australian stations 4zzz, Andrew Haug Radio and Triple J's 'The Racket'.
Pyrah
Strasbourg, France
Metal? Progressive? Post? Maybe one of these, if you want to label this band, but one thing is certain, they play PYRAH. Born in October 2012, Pyrah is a combination of 5 musicians (including 2 females, a singer and a drummer) that have really different influences, brought together in a single project with fun and originality for a motto. The band is putting all their energy in for the show to present the music from each and every member's gut. Pyrah have a music style that inspires in Progressive, Post, Death and Power Metal and also Funk. In May 2013, Pyrah released their first 3 titled EP "Rusty", a mix of power, speed and technical skills with a sweet female voice. Now PYRAH has launched a campaign for the indie funding of their first full length release atIndieGoGo ~ the CD will be available through Delinquent Records USA - Italy - Canada ~ Show them some love!
End-My-Sorrow
Grenaa, Denmark
End My Sorrow is a melodic metal band from Grenaa in Denmark, founded in 1997 by guitarist/growler Christian H. B. Jensen, and drummer Jesper Skousen. End My Sorrow started out as gothic doom inspired band, but has since evolved into a unique style of it's own, with female vocals, growl, melodic guitars and groove, build on a solid foundation of a tight rhythm section. Sure End My Sorrow still plays metal, but what started out as mostly gothic doom, soon started to grow,! It wasn't long before the songwriters began to explore and widen their musical horizons. Sure there's still some gothic and doom influences, as the band clearly states: "no doubt about it," the music has become so much more! End My Sorrow is now inspired by so many different types of music, that the band now have finally discovered a style that truly is End My Sorrow! - A style that contains groove, up-tempo, down-tempo, male and female vocals, energy, melancholy, distortion, acoustic, death, thrash, doom, and so much more.
Darkyra Black
Perth, Australia
Australian singer Darkyra Black has her own unique style of vocal delivery and a special way of blending together all the different aspects of her vocal, she'll use any means possible in order to get her point across. Her music is modern, dark and edgy. Darkyra's band features veteran drummer Garry King, Guitarist Paul Jupe, Keyboard Player Fab Jablonski, Guitarist Betovani Dinelli, and Bassist Colin Haynes. "Dragon Tears" is the first Darkyra album to be released May 2013. The album is a concept album based on a gothic interpretation of geisha tale that ends in tragedy. Love, loss, lust, betrayal and revenge. The music is a fine blend of symphonic metal, gothic metal, epic metal and progressive rock with elements of traditional pentatonic music and an overall cinematic feel.
Derecho
Cambridge/Newmarket, UK
Derecho is an experienced and hard-working female-fronted original rock band, founded in 2010. This group has played many venues across the UK ranging from pubs to the main stage at The Willow Festival and the 100 Club in London. Derecho have an online following from all around the world, and had airplay on BBC and US radio stations, as well as US and European internet radio stations. Derecho recently signed a distribution contract for some of their songs with a US record label, and are currently number 1 in the Reverb Nation local rock chart and number 44 nationally.
Nothingness Theory
Montreal, Canada
Formed in 2012, Nothingness Theory is nothing short of brilliant. This band expressly works hard to create music that does not simply lock them into the current trendy moniker of Female Fronted Symphonic Metal, but yet is cast into this category none the less for consumer sake, holding their own among contemporaries such as Evanescence, Nightwish, and Lacuna Coil; Karine's voice is exercises quality and substance over mindless operatic non-sense and there is nothing weak about the boys in the band - turning it out hot and heavy! Currently Nothingness Theory is in the studio and Nothingness Theory features Karine - Vocals,Dany- Lead Guitars, Luca - Rhythm Guitars, Phil - Bass, and Fred - Drums.
intervallic-interval
Sugarville, TX U.S.A.
Intervallic Interval is a unique 'band'. Gordon von Rentzell composes, plays, and records all instruments.
Natalie Chandra
Zurich, Switzerland
Natalie Chandra's focus, determination and passion for music are the first things that strike you upon meeting her. Her foresight and self-critical approach is the catalyst for creativity, conveying her emotions and perceptions of life in her music. Natalie first showed interest in singing at the age of 13; at the age of 17, she enrolled in the La Salle-SIA College of Performing Arts in Singapore, where she spent four years fine-tuning her singing skills as an artist singing professionally in clubs, hotels and special events. Natalie Chandra started writing her own songs during her last year at the Performing Arts College and continued singing cover songs with different bands at night and earning a living as an English teacher by day. Before returning home to Switzerland in 2001, Natalie decided to record a demo of three original songs shortly. One and a half years later, synchronicity introduced her to her present production team. Natalie Chandra's rather unique attitude towards life is strongly displayed in each of her songs, covering subjects ranging from her fellow human beings' arrogance and disrespect towards the environment and animals, to the inner-struggles of the human heart and fierce emotions. On what has most inspired her life and music, she believes, ", the opportunity to grow up in many different countries has allowed me to become more aware of my responsibility towards our world. Thus, the ability to feel empathy for what is not mine has so far been my greatest inspiration".
Die So Fluid
London, U.K.
Hatched out of the strangest egg that defies categorization, Die So Fluid got their starts in 2001 and are the modern incarnation of a 'power trio'. Their sonic identity possesses the muscle of metal, the angular cheekbones of post-punk and the bittersweet heart of grunge. Die So Fluid have existed for over a decade as outsiders and mavericks because they just do what the fuck they want. Judging by how the world has turned to them in the last year this is no longer a selfish strategy. Die So Fluid: Grog - Vocals, Bass, Mr Drew - Guitars, Al Fletcher - Drums
DAMA
Milan, Italy
Dama project is formed thanks to a chain of events between Milan and Hinterland. A series of coincidences bring the singer and author Barbara Schera Vanoli and the drum player Pierfrancesco Tarantino to meet. This latter, after having listened to a few of her songs, immediately proposes a collaboration. In a short time a band starts to get together. This band will be officially formed when the keyboard player and sound engineer Danilo Di Lorenzo, the bass player Roberto Gelli and the guitarist Cristian Comizzoli join. The name "Dama" is chosen in order to represent the world that their music wishes to express and the singer's passion for gothic cathedrals dedicated to "Notre Dame" in France. Barbara's melodies and texts merging together in Piero's musical arrangements, create a fusion of sounds that contrasts with the frequencies and dynamics typical of nowadays trademark. North-European metal influences are mixed with gothic, pop, rock and symphonic outlines which give life to a very particular style when compared to the Italian music reality.
Winter Haze
Parma, Italy
Winter Haze is a band with progressive, clear symphonic and a bit of gothic and power metal influences. Hailing from Parma, Italy,Winter Haze has paid their dues on the road since 2003. Winter Haze has always had a strong live show; on stage, this band is active, enthusiastic, and portray a spectrum of emotion. Winter Haze has shared the stage with national acts such as After Forever, Paul di Anno, Domine, and ReVamp. The Italian combo has released a full-length in 2009, entitled "The Storm Within", which turned out to be fairly successful, and an EP in 2012, "Silent Deception", which introduced a a strong new sound and brand new ideas, driving off from the most cliched gothic and female fronted metal and enhancing Giorgia's unique and powerful voice. At the moment, the band is working and rehearsing hard for Winter Haze second full-length and so many good news are coming up,
As Angels Bleed
Sydney, Australia
Having survived the Mayan Apocalypse of 2012 and with the bands line-up finalized, As Angels Bleed really had no choice but to abandon the sanctuary of Hell's Gate and bring their brand of symphonic vampiric metal to the stages of the world. Joining Valhallian vocalist Avelina De Moray and shred guitarist Von Lehmann on their odyssey will be drummer extraordinaire Frank Macri& bombastic bassist Jack Savage. If you only ever do one thing between now and your "end of days", be sure to experience the full impact of As Angels Bleed live. Your immortal soul will thank you.
LEAH
Vancover, British Columbia, Canada
Some have described LEAH as the "ENYA of heavy metal" and others say her music sounds like "Loreena McKennitt meets Delain." One thing is for sure: LEAH's voice will play the strings of the most brutal of hearts, causing them to melt into submission. From ethereal ballads to folk-tales, mysterious world instrumentation, and operatic blast beats, LEAH's debut album is not to be forgotten. Many lovers of Celtic music and symphonic metal say she has become the best music discovery of 2012/2013, listingLEAH alongside bands such as Delain, Xandria, and Epica. LEAH took two years to complete her masterpiece. "Of Earth & Angels" was released with HMP out of Vancouver, BC in June 2012. LEAH succeeded in her quest to fuse together her influences, and the world loved it! Purely through word-of-mouth and social media LEAH has attracted a global audience and landed on the popular Metal Storm Awards 2012 list! LEAH has no intention of stopping now. More inspired than ever, LEAH is moving forward with plans for future albums and appearances, digging deeper and carving a more distinct path.
Sweating Blood
Pretoria, South Africa
Sweating Blood is a South African, female fronted, melodic rock/metal band from Pretoria, Gauteng. The current line-up (2011/2012) of the band consists of the members Ryan van Schalkwyk (rhythm/lead), Jean-Pierre Fourie (Bass), Jaco Willemse (Drums) and Giselle Momberg (Vocals). With a wide variety of influences from rock and hard rock to power metal, speed metal and death metal, the Sweating Blood sound is unique to the South African Market. The soon to be released debut album 'Inside my world' consists of old-school melodies from the earlier material and hard hitting melodic metal from the more recent material. A combination of variety for everyone. Sweating Blood is: Giselle Momberg - Vocals, Jean-Pierre Fourie - Bass, Ryan Van Schalkwyk - Guitars, Jaco Willemse - Drums
Skull and Bones
Brazil
Skull and Bones began their unique style of "Conspiracy Metal" in 2006, spear-headed by multi-instrumentalist and visionary Spartacus. Their music is influenced by a wide range of bands, such as Stratovarius, Therion, Epica, and My Dying Bride. The intellectual content of their lyrics are drawn from everyone from Zacharia Sitchin to David Iche. In 2009, Skull and Bones released"Roswell" EP, and in 2010 two releases, "Skeletons Exhumed" and "Under Cover", and in 2011 "Homage to the Great." In 2012, "Conspiracy, Aliens and Nazis" was released , and in 2013 the single "Children of the Matrix." In the studio, Skull and Bones is Carlos "Spartacus" tracking all instruments and vocals, while Julia Thetinski is the enigmatic female vocalist for this uniquely brilliant and cerebral duet.
Heaven The Axe
Melbourne, Australia
HEAVEN THE AXE are a hard rock collective based in Melbourne Australia - a juxtaposition between the illustrious, hypnotic, powerful and beautiful female vocals of songwriter Phoebe Pinnock, twisting their way around a stomping Aussie riff factory! HEAVEN THE AXE are Australia's toughest female fronted hard rock band.
Touring as main support on a string of shows with Rose Tattoo, supporting CrashDiet from Sweden, playing live at Summernats 2010 & 11, regularly cranked as the soundtrack to V8 Supercars on national TV, feature interviews and regular airplay on the nations biggest broadcasters Triple J and Triple M, TV documentaries as well as constant unwavering feature support from community radio. Their music is the soundtrack in the iconic Paramount feature film "Housos VS Authority" and movie trailer released in November 2012.
Galactic Acid
Gold Coast, Australia
Hailing from Australia's glitter strip and crime capital, the Gold Coast - an ideal location for this self-confessed southern metal outfit - Galactic Acid are held together by singular vision and drive. It's that same vigor and rock 'n roll recklessness that fuelsGalactic Acid's debut EP, 'Power In The Moment', which has already spawned the quintet's first single, 'Southbound' (as heard on Rebel FM). Galactic Acid's concoction of delta blues hooks, raucous vocals and spine-bending musicality has already earned the band a wealth of opportunities. In 2012, the group took out the grand final of the Hard Rock Rising competition; it's that kind of feat that's establishing Galactic Acid's reputation for being one of the hottest and dangerous live acts to come out of the Gold Coast.
Schoolcraft
Ontario, Canada
After having been discovered and recruited by British extreme heavy metal band Cradle of Filth, Lindsay Schoolcraft on live keyboards and backing vocals. Schoolcraft quickly exchanged small club performances in Eastern Canada for global venues and festivals of plus 10,000 audiences on almost all 7 continents. Schoolcraft's first solo EP "Rushing Through The Sky," released in late 2012 displays a unique style that stems from the softer elements of symphonic metal and rock. Finally, as a solo composerSchoolcraft paints soundscapes of string sections, piano ballads, ambient choirs, and elegant harp segments, all with her voice flying clearly on top. With years of training at the Royal Conservatory of Music, Schoolcraft successfully brought forth the various vocal styles found in Cradle of Filth's discography to their live act. In addition, with Lindsay's piano accomplishments and recent harp responsibilities, Schoolcraft has transformed herself into a triple threat as a multi-instrumentalist!
As Night Falls
Katowice, Poland
As Night Falls band was founded in summer 2010 by guitarist Pawel Dylewski and vocalist Anna Achtelik Soon after the band was joined by bassist Lukasz Hatlas, drummer Darek Markiewicz, and keyboardist Lukasz Siwy. Immediately As Night Falls began writing, recording, and promoting their music, tracking a 4 song EP partially in their own studio and at No Fear Studios. As Night Falls unapologetically admits their style of Symphionic Metal is inspired by fellow European bands such as Nightwish, Epica or Within Temptation. First concerts took place in early 2012 and were both highly anticipated and well received by the audience. ANF has played a lot of concerts, it has participated in nationwide Aria Night festival, Rockarolla art festival in Wroclaw and Silesian Crossroads of Rock. ANF has also shared a stage with many great bands including Night Mistress, Mayhayron, Corral, Dirty Brick, Spatial, Hegeroth and many others.
Edenice
Rome, Italy
EDENICE was founded in 2009 by band members Laura and Claudio. Like many bands, EDENICE began as a cover band for artists Evanescence, Within Temptation, Lacuna Coil, Epica, and Nightwish. Finding their own sound, EDENICE performs in Rome and surrounding areas. In 2010, the band's first single "My Destiny" is featured on various compilations.
Divided We Fall
Stafford, UK
Divided We Fall are a five-piece female fronted symphonic metal band. Formed in 2011, the original trio started out performing acoustic cover songs which led to the recording of their well-developed self-titled EP. After over a year of dealing with typical line-up shuffle at every success point along the way, the Divided We Fall has survived. Founding members Pippa (Vocals), Matt (Guitars), and Lee (Keyboards) have solidified the line-up with Tom (Drums) and Dave (Bassist). Most recently Divided We Fallheadlined Midlands Metalheads "Brides of Metal" night and are preparing for studio sessions amid live performances, targeting the release of their first full length album at the end of 2014.
Mallory Vanetti
Brisbane, Australia
Mallory Vanetti is a singer/songwriter from Brisbane, a front woman who engages the audience with her 'doom' eyes, and a vocal delivery that will send shivers down your spine. The talent Kate Higginson on bass and beautiful backing vocals compliments Mallory's powerful belt. Amazingly talented Tristan Field on lead guitar, coming from a theatre background never ceases to amaze the audience with his energy. Cristian Corsini the Italian Stallion who is a wonderful songwriter is heavenly on guitar and rocker Kai Patch on drums, never missing a beat. Mallory Vanetti are influenced by bands such as No Doubt, Paramore, System of a Down, and Pink!
RiSeBacK
Istanbul, Turkey
RiSeBacK is an Alternative Metal band from Istanbul,Turkey, with a unique musical style. They can be defined as Alternative Metal, Modern and Gothic. Growing up they were influenced by all types of music that touched their souls. They began their own musical journey using all these melodic and harmonic elements, both technical and emotional. This process never ends, as they believe there are always new aspects to learn and experience. In love with metal music, RiSeBacK creates modern rock-metal sounds, melodic guitar riffs, strong drumming, solid bass and sincere female fronted vocals. RiSeBacK's musical sound has identity and spirit.
Aceldama
Birmingham, UK
Birmingham England's Aceldama hit the ground running in 2009 with their debut release "Seduce, Deceive & Lead Astray." This band was formed with the goal of combining powerful vocals with hard hitting melodic guitars. Aceldama's explosive live show, which produces audience interaction and high energy atmospheres. Aceldama are earning quite a reputation in the Midlands and performed at the Download, Metal Camp and Glastonbudget festivals.
Foresaken Age
Auckland, New Zealand
Forsaken Age began in 2009, playing Classic Metal covers and quickly establishing themselves as one of the more popular and sought after Metal covers bands in the Auckland area. In between various line-up changes, in late 2010 the members decided they wanted to pay homage to their metal heroes. Drawing on influences such as Saxon, Iron Maiden, Dio, Accept, Manowar and Merciful Fate, Forsaken Age began to work on their own material. The culmination of their efforts can be heard on their debut album 'Back From Extinction', which was released in November 2012. In addition to their writing and recording duties, the band took to the stage to showcase the material, to rave reviews. The power of their material earned them an opening slot on metal legend Tim "Ripper" Owens tour in 2012, and various local gigs have merely served to enhance their growing reputation. The Forsaken Agephilosophy is a simple one, Metal is not a fashion statement, it is a lifestyle.