DELINQUENT DISTRIBUTION
Spreadin' Love Around the Free World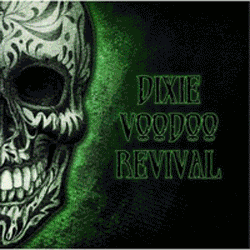 DIXIE VOODOO REVIVIAL
Take four music loving guys from TN, one from AL, put them together with their favorite Son House, Hank Williams, Lynyrd Skynyrd, Down, C.O.C. & Pantera LP's ... and the end result is what Dixie Voodoo Revival has whole-heartedly labeled their music - Swamp Metal! ... and just what is "Swamp Metal" you might ask? It's an eclectic blend of hard rocking Southern Rock, Metal, with some Delta Blues. It's gritty, and best of all, it's music you can really feel.
Officially, Dixie Voodoo Revival began in Jan. 2011, and performed their very first live event in March 2011, and DVR have been going full steam all over TN and AL ever since. The Voodoo Boyz released a 3 song EP in June 2011 titled 3 Songs for Woodrow. On ReverbNation.com DVR's first single titled Legba's Hounds was an instant hit! Legba's Hounds has remained in the top 10 on the local music charts for over a year straight, and DVR has remained #1 locally for quite some time now as well! During the summer of 2011 all 3 of our 2011 EP tracks simultaneously occupied the top 3 spots on NashvilleRock.org's website. EP 3 Songs for Woodrow was nominated for an EP of the Year Award from Nashvillerock.org as well. DIXIE VOODOO REVIVAL were also nominated for the 2011 People's Choice award at the Music City Mayhem Awards held annually in Nashville, TN and have been receiving airplay on local and internet radio shows across the U.S.
In August of 2012, Dixie Voodoo Revival entered the Charter Communications "Battle of the Bands" and won our region, which consisted of Tennessee, Georgia, and Louisiana. From there DIXIE VOODOO REVIVAL competed against 10 other area winners in the finals and finished 4th in the nation. Then, DVR entered the studio in April 2013 to record again, releasing their "highly anticipated" full length self-titled debut album!! Check it out, it's for sale here at Delinquent Records USA
Now Delinquent Records USA plans on taking DIXIE VOODOO REVIVAL not only nationwide, but WORLDWIDE!