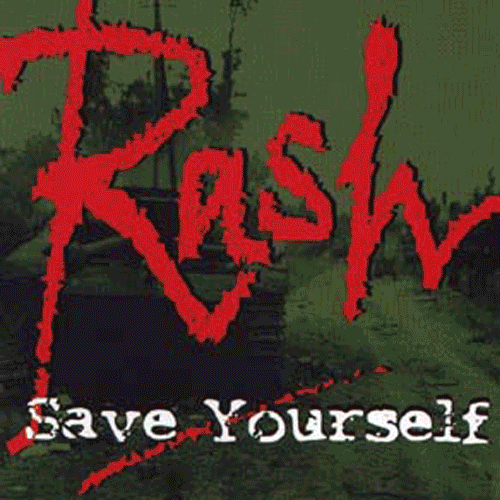 Rash
Save Yourself (DR019)
Tracks
1. Lust
2. Pain of Addiction
3. 10 Second Spot
4. No More Lies
5. No Secrets
6. Feel
7. Same 4 Me
8. Tuesday
9. Whatcha Gonna Do
10. Save Yourself
11. Learn
12. Kill U
Band
Lorrie Kountz - Guitar / vocals
Denise Sebo - Bass
Debbie Cielen - Guitar
Review: Xian
Christian Says: (New Orleans)
Open up Pandora's beat-box and out breaks the all femmes-fatale Rash with four abrasive tracks on their Revoked EP. Each song packs a heavy wallop, laden with rapid-fire drums, grinding bass and a strong dose of grunge-metal fuzz mixed with distortion. Rash presents in this release a unique blend of many styles, at times perched precariously near college alterna-pop-rock, but always falls back for another fresh dive into a Ministry/Skinny Puppy-esque industrial assault on the senses. Same 4 Me, the first track, is mainly distinctive for its heavy bass and throaty vocals. Pain of Addiction, a close contender for best of the four, is dominantly grunge rock cross-bred with a fuzzy metal edge. Screw is definitely their boldest excursion away from the status quo, screeching discordantly from one beat-driven end to the other. Finally, Wall of Shame, my favorite, delves deepest into amphetamine-scorched percussion-focused angst. Still rough at the edges, Rash is one to keep a wary eye on for their next devious turn.
Spotlight - Mike Varney / Guitar Player Magazine
A guitarist since age six, Lorrie began her musical training with eight years of classical guitar lessons with Jeff Gecchini. Beginning at age eight, she also studied classical piano for six years. At age 15, she entered the National Open Classical Guitar Competition (ages 15 - 35), taking second place; two years later, she won top honors. After finishing high school, she began playing in Bitch, release an album in South America and Mexico and toured across the U.S. and South America. Her 1985 album with the all-female group Illicit received much critical acclaim, and during her career Lorrie has enjoyed write-ups in such nation magazines as Oui, Rock Scene, and Billboard. She's appeared on many TV shows, and obtained a great deal of local airplay. As a live performer, she's opened for U2, David Johansen, and the Scorpions, and she has toured 38 states headlining clubs with her own groups. Her current band Surrender Dorothy, receives quite a bit of press and gigs regularly in the Chicago area.
Lorrie's demo includes her on stage guitar solo and other showcases for a variety of flashy licks, fast picking, highly skilled whammy workouts, and blues licks, all couches in a commercial rock context. In the future, she plans to continue performing with Surrender Dorothy and secure a record deal.
Endorsed by Dean/Markley Strings
"10 Second Spot is a keeper. This band rocks ... hard."
Chris Payne Rock 103.5 (FM, Chicago)
"10 Second Spot is on our regular play-list."
Rebel Radio (Chicago) 11-97
"Rash creeps up on you. If something that sounds like a freight train in pain can be accused of creeping up on you, that is. Live, they have no equal."
Steve Stofflet, Outspoken Productions (Mich.)
"10 Second Spot (the video) is in my regular rotation when I spin at clubs."
Goth DJ Scary Lady Sarah