INDUSTRIAL BABY
Various Artists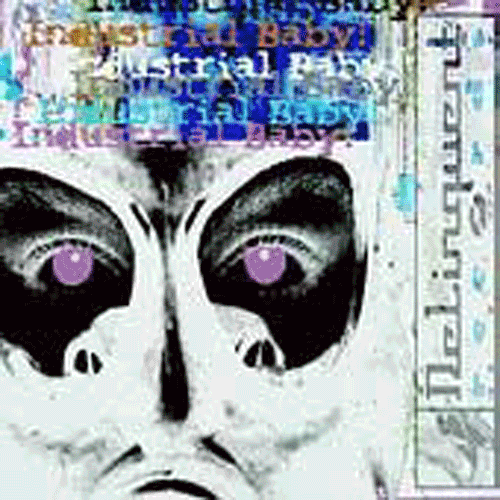 INDUSTRIAL BABY! (DR016)
INDUSTRIAL BABY!
hit the streets November. 1, 1998 in Chicago at Thurston's Night Club, and has been generating radio and press attention since! You'll find an array of Industrial music on this CD, ranging from Heavy and Hardcore to Dance and Techno, including some of the darker more Gothic styles.
RASH
contributes "Learn" to the project off their self-produced demo CD "Revoked", later re-recorded for their DelinquentRecords debut CD "Save Yourself".
DEISIX
is angst, grind and pop. If you think adrenaline is about drugs, then the problem is yours.
INDUSTRY ELEVEN
features Brent "Slab B" on guitars, synthesizers, vocals and programming; Geoffrey "G" on guitars, synthesizers and programming asst.; and Dr. Rhythm on drums and such.
GRACE OVERTHRONE
has opened for acts such as Front Line Assembly and No Doubt. The masses describe them as wicked, dark and sarcastic. straight from the heart!
GLAMPIRE
is a pure, simple and true presentation of convincing talent and great songs. Currently signed with J-Bird Records, expect big things form this group.
DARK AND AGGRESSIVE
was formed in '96 and features Frank Cyberr (Vocals/Keys) and Jode (Guitar). Live on stage they're joined by Sarah (Vocals/Keys), Stephanie (Lead keys), and Mark (Technical support). To best describe the sound, just look at the name.hard aggressive beats, keyboards, bass and guitar with a dark gothic ambient background.
CYCLOTRON
was formed in the summer of '96 and consists of drummer Brad Lewellyn and guitarist Craig Leach. Occasional bandmates over the past 14 years, these guys have now paired up to construct music that not only conveys power and intensity, but intelligence and uniqueness. The sound they have created appeals to fans of all types of music from metal to dance music.
U.N.I.
Houston's electro industrial dance specialists!
DENIAL
was born in April of '96. It's members consist of Brent Schmidt, Tony Potter, Mike Marumoto, John McCallum, BreAnna Alvey, and Cory Nelson. Denial performances are unique in that all the music is played live without the aid of any pre-recorded tracks.
ANGRY WHITE MOB
is a techno-industrial rock group based in Montreal, Canada. Since their formation in 1990 they have independently released two full-length albums, "Church and State: The Immaculate Deception" and "By Product", as well as an EP entitled "Stress" released in December. Angry White Mob has spent a lot of time touring and promoting in Canada, and is well suited to a break-thru in the states!
SILENCE.TXT
hails from the Philadelphia area and has perpetuated quite a noise for the past six years: the members are Anthony Grislier (vocals) and programming, Rid (guitars and programming), Bob Canted (drums and programming), and Seth Tidy (keyboards and samples).
DEEP BLUE BLACK's
music is diversified, winding and flowing through genres, yet follows a consistent thread of concept and theory. While many electronic groups fail to find the deepest soul of their music, Deep Blue Black have made the technology conform to their ideas.
BOZO PORNO CIRCUS
formed in Houston 1991, this band has continued to increase their following till this day. "The ultimate goal of Bozo Porno Circus is to engage and lure the audience into a mass sexual frenzy.". When asked to describe their music, three words. "Passion and Danger"!
WAKE UP CALL
is a three piece band from Paris, the LAND OF REDNECKS (their words) France is a cursed and hellish place for a band. especially when its loud and sung in English. But they've managed to sing loud enough for us to hear overseas in America.
STATE OF BEING
is a Cleveland based band that teeters on the undefined borders of industrial, electronic and gothic rock sounds.
SYNCHRO NINE FACTOR
is an industrial rock band that continues to shake up the Atlanta underground. S.N.F. transports the listener to a distant world, they are heavy and driving.calm and atmospheric.combining fantastic musical and lyrical imagery.
NEUROGOD
is a powerful and driven sound is the work of John Shepherd Schulte, assisted by Graham Ruby [guitars], Dave Stifter [violin], Victor Echevarria [synth] and Crisjoe Joseph as The Dancing Pan. Neurogod 's sound varies from hardcore techno, to guitar based electronic, but stays within the dark realm of industrial.
LOVE IN THE ASYLUM
is from Virginia. Their song "Alot" featured on this project, is one of the first releases by this talented new group.
NEIN CREED
is a unique blend of techno, alternative and industrial rock who claim, "we're just trying to fill the gap in alternative music where most intense bands seem to lack intelligence and take themselves too seriously. We're kinda goofy really."
NAKED LUNCH
has a new CD out called "Everything Dies". One of the tracks on this CD, "Wonderful" is featured on Industrial Baby! Heavy techno industrial best describes their forte'.
NEUROACTIVE
was formed in 1990, the line-up consists of Vesa Rainne (vocals), Ville Brusi (percussion) and Jarkko Tuohimaa (programming and sampling). Their style can be described as more intelligent electro, w/ influences from both techno and industrial.
MINDLESS FAITH
explores a new world of sound, somewhere between goth and industrial, but also incorporates elements of rock, techno, hip-hop and ambient styles. The current line-up consists of Jason Sevanick, vocals; Chris Sevanick, percussion; John Boese, sampler; and Mike Ewall, guitar, sampler.
NIMBUS
is original and unique, a combination of the hip dance-ability of techno/dance music, and the growing underground style of aggressive industrial rock.
LATERAL TENSION
features the title track "Pressure Device" from their own self-released CD. Most of the songs on the disc are dark and angry, not for the sake of being anti-social, more for the sake of reflecting on personal experience. "We live in what seems a contradictory world."
ATTRITION
has been touring the U.S. and Europe for well over a decade. Their mixture of industrial dance rhythms and atmospheric experiments, coupled with a surreal lyrical content and combination of male-female vocals has helped them develop fans across the globe.
INTROSPECT VOID
was born in 1993 as a way to vent mental cobwebs in a blur of sound. This music will take your soul on a journey to the dark reaches of the bands' collective mind.
EYE
formed in 1991. Their song "The Vivisector", which is featured on Industrial Baby!, is not an animal rights song. It's about an unscientific and highly flexible research method responsible for damaging and or killing countless human victims through medical procedures and products that were found "safe" through misleading vivisectionist testing.
DOGMACHINE
has been labeled as anything from gothic to grunge to experimental. The band has truly a live feel, and an unsurpassed impact, leaving audiences agape and in disbelief.
CHAINGUN OPERATE
began in 1990 in Tampere, Finland, as four friends began to experiment with synthesizers. The members, inspired mainly by gothic and industrial music, adopted influences from their old time favorites and added a hint of Slavic melancholy and frustration. They are currently one of the most active industrial groups in Finland.
MAINTENANCE OF ORDER
is from Chicago, their featured track is "Merry Go Round".
BISEXION69
is Hell, Pussy Kat, Mixtress Alana, Tracy X, and SuZen. Fronted by three sexy rock divas and backed up by a strong rhythm section, BISEXION 69 delivers a feast for the senses!
A SOUND THRASHING
is studio created, manipulated, organized chaos with commentary. Vitals: Chris Armstrong(sampling, sequencing and guitar) and John Sarappo (sampling, sequencing and vocal).
5000 FINGERS
can be labeled an industrial band because they incorporate drum loops and distorted vocals, some songs, however, are much closer in style to trip-hop or trance music, even with a touch of experimental noise.
BRIDE OF THE ATOM
is from Australia. They have contributed "Crash and Burn".
THE HILLSIDE STRANGLERS
lend "I Am A Bullet" to Industrial Baby! Detroit Noize Boyz with an industrial hardcore touch.
WARM LEATHERETTE
is an intriguing duet with melodic female vocals over samples and loops, creating a brilliantly layered and surprisingly interesting act.
INDUSTRIAL BABY!
is proud to have several songs featured in the soundtrack for the FILM FUSION release,
SHOWER OF BLOOD
. The list includes Deliqnquent artists such as Sunshine Blind, Morphine Angel, Attrition, BiSexion69, The New Creatures, and 5000 Fingers. All of these groups were paid for their participation and are now eligible to participate in the upcoming CD release that will be done in conjunction with the film.
REVIEWS
A double-disc set of industrial/electro/techno that spans the globe - you'll find bands here from the US, Australia, and England, etc. After listening to the pioneer industrial/techno band Attrition doing "The Merry Machine '97 Remix", everyone else here just seems like a copycat. ON THE OTHER HAND, this is a compilation and overlap is expected. Highlights are State of Being, Grace Overthrone, Glampire, Angry White Mob, Neuroactive, and Bride of the Atom. This disc could benefit too from being a single disc of strong songs instead a rambling two disc (I said the same about "The Pink And The Black"). In general, this is a fine set of industrial underground songs that will introduce you to underground bands and styles that may be unfamiliar.
Music Reviews
Dark Velvet
Issue 2 Winter 1999
Delinquent Records' decade of experience in the goth, glam, and hard rock categories finally transcends into a compilation of independent industrial and electronic artists in a 2 CD compilation appropriately named Industrial Baby! Naked Lunch's hard coldwave launches the listener into the first disc without so much as a brief insertion to the angstful post-Ministry structure shorted by deep black metal vocals-definitely an interesting track to thrust upon a first time listener. While not a stand out contribution it provides a summary of the majority of the rest of the compilation's metal riffs and minimal backbeats that might benefit from further production or engineering. The talent of many of the artists is apparent; yet rarely does a balanced track (not belonging to a "big" name) make an appearance without some unfortunate drawback in either unusual punk vocals or sampled drum loops that expose their inexperience. Chaingun Operate follows, freshly blending hard techno beats and flowing samples playing second string to the decent gothic vocal delivery. Attrition's excellent darkwave style severs the repetitious, generic coldwave most of these artists attempt to employ; the battling male and female vocal complement its dance floor rhythms and smooth sequences, aptly diffusing the notion that gothic music has only moderately evolved since the days of Joy Division and Bauhaus. Regrettably, the second disc fails to improve upon the first. With standout tracks belonging only to Lateral Tension and Neuroactive-two highly acclaimed electro acts-it really only serves as an example of why American cold wave has been suffering from poor output. Maintenance of Order's contribution was particularly disappointing after receiving a fair amount of good press opening for several successful coldwave acts on major labels. Industrial Baby! is educational and fans of stronger guitar oriented coldwave may find this compilation interesting.
Michael Johnson
Outburn Magazine
This double CD compilation, featuring 36 artists (US, Finnish and Australian bands only) and nearly 160 minutes of music, seems to be a good gift for any industrial fan or anyone who itches to know what this stuff is all about. INDUSTRIAL BABY! is a journey through all kinds of industrial, from bands like NAKED LUNCH (their "Wonderful" is my favourite track on the first CD), who invoke a mixture of grim industrial-like stuff and black metal vocals, while the atmosphere also appears as an incredibly anxious one, through pure industrial acts (i.e. the ones producing a cross between metal and techno beats) like CHAINGUN OPERATE or STATE OF BEING, to the groups like NEUROGOD and DEISIX which stand closer to 'techno' side of things being less brutal and more comprehensible. Here we can also find stuff like GRACE OVERTHRONE: weird, disturbing, almost vanguard with those 'broken' structures and sick female voice. I guess it's useless to name all the bands featured on this compilation and describe their style - you'd better do it yourself inside your mind after listening to these splendid CDs. Of course, INDUSTRIAL BABY! has some drawbacks like few really worthless bands which bored me to death with their attempt to create certain crap which has to do something with music - while it hasn't. Few boring and even irritating tracks are also here, but who knows, maybe others will praise 'em to the skies and doubt my competence. All in all, I truly hope that this review made you to lift your lazy ass and orderINDUSTRIAL BABY! If you're into industrial, these CDs will please you like nothing (and no one) else could.
rating: 5 of 6
Herr Stalhammar
Vae Solis
RUSSIA