D'MOLLS!
Beyond D'Valley of D'Molls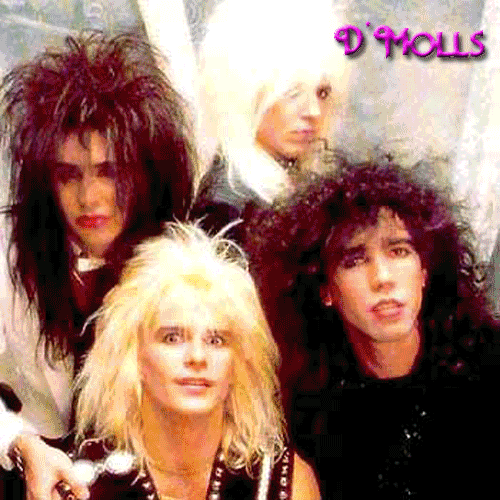 D'Molls: (DR014)
Beyond D'Valley of D'Molls
01. Action
02. All I Want
03. Hi 'N' Low
04. Shadows
05. Sweet Cherry
06. Old Tyme Picture
07. The Answer
08. Highway Man
09. Ladies' Stall
10. Crimes Of Fashion
11. D'Stroll
12. Limelight (live)
13. Supersonic (live)
14. Really Got It Bad (live)
Band:
Desi Rexx - vocals and guitar
S.S. Priest - guitar
Lizzy Valentine - bass and piano
Billy Dior- drums
D'Molls: (DR014) Beyond D'Valley of D'Molls
Chicago was once best known for the gangsters and crimescenes from the roaring '20s continuing on through the prohibition days. The fine ladies that hung on the arms of America's original gangbangers were called "gun molls", or "molls" for short. D'Molls formed in the summer of '86, in the windy city - originally donning the name "The Molls", the D' with the Chicago accent simply found it's way into place.The four piece line-up featured S.S. Priest on lead guitar, Billy Dior on drums, Desi Rexx on lead vocals and Lizzy Valentine on bass. 4 soon-to-be stars in the making!! July 29, 1986 - D'Molls, helped by legendary rock radio station WLS, played a farewell show at the Limelight in Chicago (the new CD boasts a tribute song to this landmark venue) to a packed house, on a Tuesday Night no less, breaking all previous attendance records. The next day the band was packed and headed for Hollywood!!
From there on out, D'Molls lived the rock'n'roll dream come true!! After being in Los Angeles for only one day, the band met with Michael B., the man who later produced the debut D'Molls release. Day two, D'Molls set up a rehearsal space and Michael B. picked three songs; day three they recorded them. Day four during the mixing session, from out of nowhere, Keith Cowan of Atlantic Recordsappeared, stating "I love this stuff. Don't shop this. I'll get Atlantic to sign you!!" Eight or nine months worth of attorneys and paperwork later - the deal was done. During the negotiations lasting the better part of a year, D'Molls rehearsed, recorded and started gigging around town. However, it was on a dare one infamous night that one image stuck with D'Molls even to the present. The band was dared to perform at Gazzarri's in ladies lingerie. Needless to say, the guys had no idea what impact this one night would have on their lives. Dressed just that one night in head to toe ladies' garments and high heels, that image sticks in the public's mind, even though the band rarely performed in that attire afterwards. With their fun hard rock and glam-like melodies, D'Molls were often compared to '70s rock bands like Sweet and Slade, as well as their contemporaries at the time, Kix.
D'Molls received moderate exposure and sales from their debut release and toured the U.S. with a, then unknown, opening act called Warrant. The second release, "Warped" featured a more mature rock song writing style and the harmonies and arrangements reflected their year long involvement on the road together and with Warrant. Thanks largely to the grunge movement, the second release never picked up full speed into the retail markets, and things just got worse from there, with lead vocalist Desi Rexx leaving the band to join David Lee Roth as the rhythm guitarist/backing vocalist on the "A Little Ain't Enough" tour. D'Molls was dropped from Atlantic Records later that year.
The D'Molls skeletons have come out of the closet to rock'n'roll again!! Yes, the original line-up brings you "Beyond D'Valley of D'Molls" featuring 14 never before released tracks: live tracks, six alternate versions of songs from the first two releases, and eight brand new songs! Released by Delinquent Records, "Beyond D'Valley Of D'Molls" represents all the best the band has to offer - fthe fun energy of their earlier material captured live, as well as the powerful songwriting and performance of the current, more mature D'Molls, such as the new AOR rocker "Shadows" and the moody, acoustic-driven "Highway Man".
D'Molls are an often-forgoten glam band that was able to change from radio friendly pop rock to pure sleaze in the blink of an eye. Chicago, Illinois was where Desi Rexx (vocals/guitar, formerly of St. Valentine), S.S. Priest (guitar), Lizzy Valentine (bass) and Billy Dior (drums, who had played with C.C. DeVille in a couple of L.A. bands, one of them being the Screamin' Mimi's which played an early version of what would be Poison's "Talk Dirty To Me") formed The Chicago Dolls, which would quickly morph into the D'Molls. In 1985 the group decided to relocate to Los Angeles in the hopes of securing a recording contract. However Priest was still under contract with his other band Diamond Rexx, and was forced to stay behind. Within 48 hours Sean Freehill was named the new guitarist and off they went to the bright lights of L.A.
On Halloween of 1986 the D'Molls singed a contract with Atlantic records and began work on the debut album. With the album almost complete, Priest left Diamond Rexx and flew to L.A. to rejoin his old cohorts. The video for "777" received some airplay on MTV but the album failed to sell in huge quantities. Tension arose over the band's choice of personal management, and even resulted in fistfights during pre-production of Warped. With a new album to promote Rexx unleashed a bombshell; that he was leaving the group in favor of a job playing guitar for David Lee Roth. Shortly after that announcement the band broke-up (ironically,Rexx' new gig lasted a mere eight weeks).
Priest returned to Diamond Rexx and Dior started writing novels under his real name of Billy McCarthy. A posthumous third album was released in 1997, but the chances of a full-blown D'Molls reunion are slim.