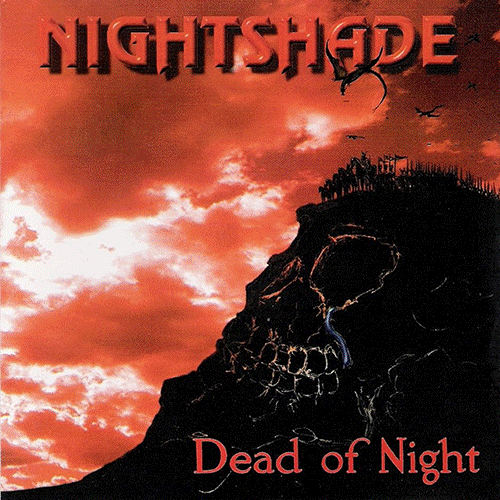 Nightshade
Dead of Night (DR012)
Tracks
***************
Band
Jonathan Scott K. - Vox
Rick Pierce - Guitar
Anthony Magnelli - bass
Jeffrey McCormack - drums
Nightshade: Jonathan
"If you love serious classic metal . . . Dead of Night" is a must have!! Definitely packed with slick production and executed with untouchable perfection" . . .
Music Scene International: Nightshade Review
Nightshade: Dead of Night (DR012) Is the quintessential classic hard rock album for the latter part of the '90s. Actually, for the entire decade. Vocalist Jonathan Scott K. and guitarist Rick Pierce are veterans to the rock scene, having been the primary writing team in visionary metal band Q5 for years. Q5 featured Floyd Rose [tremolo inventor] in the line-up (a detail that I'm sure the band is tired of hearing). Also, many die hard rock fans may remember Rick from '80's commercial metal band TKO. Nightshade is the best thing to come out of Seattle (and happen to rock in general) in years!
by Robert Elderado
Stars Of Tomorrow: Nightshade
Here's a band that's sure to prove metal music is still very much alive. Nightshade recently released their Delinquent Records debut album, "Dead of Night" . . . .From the opening drum beats of "Surrender" to the final notes of "Prophesy 1616? the listener will immediately become addicted to Nightshade. The vocals are intense and understandable with aggressive guitar work, heavy bass lines and a powerful drummer.All songs are well written and arranged with excellent production. Their music is pure unadulterated metal. This band is extremely talented and ready to take their music straight to the top! All metal fans should definitely check this band out. Their CD certainly belongs in every hard rock/heavy metal fan's collection!!
Anne Blanck
Check out what Kerrang! had to say about Nightshade:
Rating: KKKKK (5 out of 5)
It's been a long time koming, but well worth the wait as former Q5 stalwarts Rick Pierce (lead guitar) and Jonathan Scott K (vokals) bounce back with a new sound and a new band - Nightshade. If you like your ROKK hard, yet retaining a KOMMERCIAL edge, this is the band for you.I still find it baffling as to why Q5 never got the success they deserved. They were signed to Def Leppard manager Peter Mensch's Squawk/Polygram label, which makes it even more unbelievable,as I'm sure Mensch realized Q5's potential.But here we are with Nightshade's debut LP, and joining Rick and Jonathan are Anthony Magnelli on bass and Jeffrey McCormack on drums.
In a word, this album is FLAWLESS, with not one dull kutt or FILLER track. From the opening powerkhords of "Surrender" you'll be hooked. Rick Pierce's guitar playing has kome on in leaps and bounds since his Q5 days, but back then he had to live in the shadow of Floyd Rose - yes, he of the GEETAR PIKK-UP system! Nowadays, his playing is FLOWING and AGGRESSIVE.Lead singer Jonathan Scott K, as he is now known, has also improved immensely since leaving Q5, and his range is far more wide and varied here. He does have that Bon Scott SKREECK about him, and . . . .
Out of the ashes of Q5 a phoenix would rise in the form of a new band called ...Nightshade. Rick Pierce and Jonathan K. formed the band so they could return to the metal roots that made the Q5 sound so memorable. They formed Nightshade, snagging a young drummer named Jeff McCormack and bass player Anthony Magnelli. Rehearsals began with the anticipation of recording in the near future.
The band began to play live. The first Nightshade show was with Love/Hate. Even the formidable Jizzy Pearl was taken aback by the pure metal onslaught that was Nightshade. Other shows followed. The band began to jell like seasoned veterans. Nightshade kept the metal faith while around them other bands began to play a different sound As time went on it became apparent that the music scene in Seattle was changing. The bands were different, the clothes were different, and the music was very different. The formidable Rock radio stations in Seattle continued to play music by well known artists but eventually even they realized that the music that had started there was moving across the country.
Metal maniac Rockfish at KISW radio continued to play Nightshade on his Metalshop show for years and was a big help in keeping the Nightshade and Q5 name alive. Nightshade signed a deal with their European distributors Music For Nations and began recording their first cd. Released in early 1992, Dead of Night debuted at 1 on the European indie metal charts and stayed there for some time. Back in Seattle the metal scene was dying. Leather was out, flannel was in.
The high flying cocaine snorting days of hot bands, hot chicks and even hotter music, disappeared almost overnight. The 80's were officially over. Nightshade had done well in Europe and had a decent fan base in the U.S. Their CD, Dead of Night, was picked up by a distributor, Delinquent Records.
Delinquent Records was one of a hand full of record companies that were still promoting Rock and Metal acts in the U.S. They remixed the album and changed the cover from the European design. Nightshade decided to Rock On and not stop playing the music their way. They made an independent video featuring the song "Somebody's Watching You" from Dead of Night. Unfortunately Tony and Jeff decided to move on to other things. Rick and Jonathan were left with the same decision they confronted only a few years earlier.They decided to continue with a new lineup. After several months of tryouts Joel Wiseheart, originally from Chicago and Frankie Rongo from New Jersey joined the band on bass and drums.
Joel added a new dimension to the bottom end of Nightshade's music. Frankie Rongo was a drummer's drummer. Coming through the ranks of the legendary New Jersey bar scene Frankie had tried out for KISS but lost out to Eric Carr. During the several months taken while searching for a rhythm section, the music scene in Seattle and the world had changed drastically. Metal/Rock for so long a staple on the stage and the airwaves was dying. It had been redefined to include a completely different sound. Nightshade wrote and played a style now being considered old school. But the band played on, taking slots with other touring metal/hard rock bands and helping to keep metal alive. Nightshade recorded their second cd in the latter days of the 90's. Titled "Men of Iron" Recorded raw with few overdubs, it is an album that reflects the metal tastes of the band. Several epic story lines criss cross the album, but all tied to same theme as the Q5 classic Steel The Light. The album also includes a band favorite, "Sin's a Good Man's Brother" by the great Mark Farner from Grand Funk Railroad's classic album "Closer To Home".
Men of Iron was distributed primarily to the fans in Europe through Hellion Records. In the early years of the new century Nightshade found themselves in a resurgence of all things metal. Their albums continued to sell steadily especially in Europe and there were requests to tour there. In 2002 Joel Wiseheart left the band. He was greatly missed as a friend and performer. Once more Nightshade was in need of a bass player. There was only one name on the shortlist of players that Rick and Jonathan wanted. Evan Sheeley, the great one. Evan jumped on board and Nightshade began rehearsals. They were to co-headline at the Headbanger's Open Air Festival in Germany in the summer of 2003. They also began writing new material. The Headbanger's Open Air was a great success and renewed the bands faith that metal was still strong in Europe.