INDIE-PENDENCE DAY
Various Artists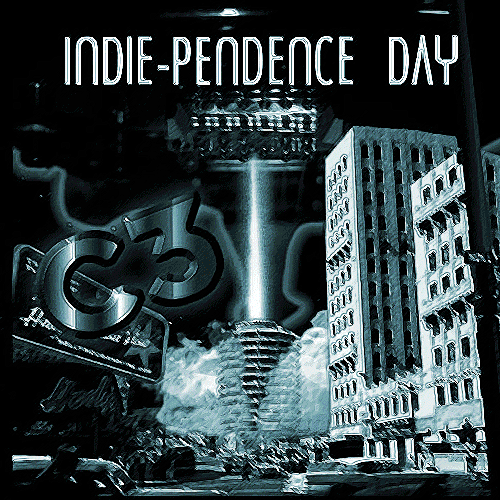 Indie-pendence Day (DR010)
Tracks
D'Molls: The Answer
Nightshade: Last Train Home
Little Rebel: Twentieth Century Brokenheart
Morphine Angel: 45 Gods
SFB: Mask
Suicide Alley: Nothing To Lose
Kelly: Pain
The Brass: The Mask
Razor Kane: Sleestack Dance
Lost Horizon: Inferno
H.A.R.E.M.: Thunderbird
Grendle's Lucky Day: Religion
Drownward: Random Acts of Violence
Abel & Cain: Holy War
The MI.S.S.: Loving, Screaming and Running
Dead Lock: Sweet Darling Underground
Indie-pendence Day: C3 continues the quest of Delinquent Records to introduce new independent rock to the attention of fans worldwide.
1997 realizes more and more independent labels in the music marketplace. One of the greatest achievements for all of of the indie labels is the amount of acknowledgement and degree of recognition being attributed to these new music innovators by media sources such as Billboard Magazine and SoundScan.
Major labels no longer singularly dictate the minds and selections of the buying public. Major Labels are properly defined as labels who are distributed by one of the "Big 6" distribution companies: WEA, Sony Music, BMG, Polygram, CEMA, and UNI.
15 years ago, even the mere idea of opposing these bigboys was met with skepticism, dismissal, and much candor.
Today the combined sales statistics from independent labels worldwide literally make the new "7" among the "Big 6"!! In 1996, independent labels as a whole made up 19% of the total sales in the music industry!! This figure is larger than each of the "Big 6" except WEA. That is pretty impressive!
Delinquent Records would like to thank everyone who continues to support us and all the active indie hard rock labels worldwide!!
And don't forget ... BREAK THE RULEZ!!