MOREPHINE ANGEL
Lovenest+Murderfest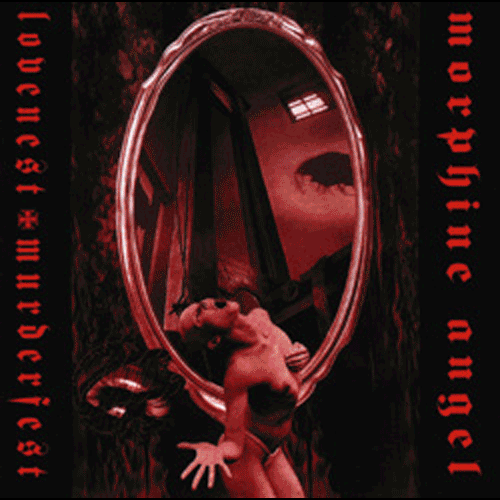 Morphine Angel
Lovenest+Murderfest (DR009)
Tracks
1 45 Gods
2 Antistatist
3 Fine Homeland
4 Day One
5 Razor Dag
6 O. G. G. Ft: Thomas Thorn
7 Daimon
8 The Pit Ft: Sir Timothy McGranahan's One Way Elevator
9 Red Daemon Lives
10 Partytime
11 The Gate
12 Ice
13 Breakfast With Cthulu
Band
Vocals - Johnny Lee Fynbu
Bass, Guitar, Percussion - Paul Fredric
Guitar - W.H. Tong
Keyboards, Percussion - Marshal
Heralds Of The New Millennium - Morphine Angel are most often labeled a goth band, and have often been compared to acts as diverse as Godflesh, Killing Joke, David Bowie, Ministry, and the Sisters of Mercy. However, the "goth tag" is one that sits uncomfortably with Morphine Angel, because their music isn't really like anything else that has emerged before, Morphine Angel is breaking new ground, creating a space for themselves somewhere between classic goth and modern industrial rock, with just a little theater thrown in for good measure. Johnny Lee's brooding vocals are distinct and deliver powerful, angst ridden lyrics. The song structures are obsessive, dark, and aggressive - a sound that reflects the intensity of Morphine Angel.
Ancient History. Paul Fredrick was the bassist in the notorious Lincoln NE punk bands Red Max and One Dark Rabbit. Meanwhile, Lead vocalist Johnny Lee, was making noises in his own local music scene as the "Goth Bad Boy." During his earlier days in a band called Fishbox, Johnny Lee and Paul Fredrick met and began working together in early '92. After only a few months of development, Morphine Angel became a regular in Lincoln clubs like Knickerbockers and Duffy's.
It wasn't uncommon for them to pack a house with only a few days notice. Their first full length CD, Project Isa was produced by the notorious W.H. Tong. Thanks to the power of the songs, and the relentless touring that the band did to support this CD, Project Isa reached instant critical acclaim in goth circles and sold over 2500 copies in the first year, without any help from mainstream distribution networks. The band was reviewed and praised as being the new Bauhaus in most national goth magazines including Alternative Press, Flipside, and Industrial Nation.
Just prior to leaving for an Australian tour, Isa guitarist Wolfe departed from the band to pursue his own side project with his wife. In a bind for a guitarist on the eve of the Australian tour, W.H. Tong graciously stepped in to fill the position. On returning from overseas, the band began recording tracks for what was to become their next album, Lovenest + Murderfest (Delinquent Records)
The Now. During short breaks from their incessant touring schedule, the band found time to bring in Thomas Thorn, singer for The Electric Hellfire Club, on guest vocals, recruit Cleveland's infamous guitarist Dominic St.Charles, finish the album at Soundworks Recording in Alabama, relocate to Kenosha Wisconsin, book their largest non-stop tour to date, and release LOVENEST+MURDERFEST on Delinquent Records.
Lovenest+Murderfest features a total of 13 great tracks, including a cover of 45 GRAVE'S Partytime, and 3 live cuts recorded in New Orleans during their fall '96 tour. Already, the album is garnering praise and acclaim from reviewers worldwide, and proves that Morphine Angel have developed into a force to be reckoned with as the old century draws to a close, and as the new era rushes ever closer.