PARADISE ALLEY
Heartbreakers and Homewreckers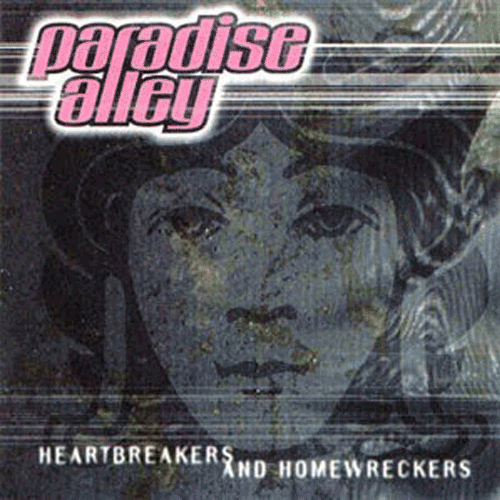 Paradise Alley
Heartbreakers and Homewreckers (DR008)
Tracks
1. Little Suzie
2. Cryin'
3. Tell Me Why
4. Mystery Girl
5. Walk It
6. No Time to Cry
7. Same Old, Same Old
8. Don't Say Nothing
9. Don't Fake It
10. All Fall Down
11. Do You Feel Lucky
12. Just Pretending
Band
Steve Vincent - vocals/harmonica
Kenny Reid - guitar/backing vocals
Steve Thompson - drums/backing vocals
Tajinder "Cosmic" Sagoo - rhythm guitar
Mark Harkin - bass/backing vocals.
About a year (and many line ups) later we released our first CD "Psychotic Playground" which went on to sell around 5000 copies. It still took a couple of years before we got round to recording the second and latest CD "Heartbreakers and Homewreckers" but we've finally done it.
We've recently toured the UK and US, highlights including a sold out "Rock Garden" in London, support for "Spike" (ex-"London Quireboys") in Sheffield plus the legendary "CBGB's" and a Playboy Playmate party in New York. It's been a blast and we'll be back real soon. Just remember Rock n' Roll will never die!!!!!!You can Email Paradise Alley from this link or by contacting Delinquent Records.
I started the band back in '92 influenced by stuff like Hanoi, NY Dolls, Dead Boys, Aerosmith, Sex Pistols and The Rolling Stones.
Shining Stars Review
Right now Steve Vincent doesn't care if he has a place to live. The lead singer and harmonica player for Delinquent Record's only British glam-punk band, Paradise Alley just wants to make it as a musician with his band mates "guitarist Kenny Reid and Taj, drummer Steve T, bassist Mark Harkin. An issue in finding a flat is money. "Whenever any of the band holds down day jobs, most "if not all of the money goes to Paradise Alley's needs. Even without jobs, it's the same story. When it comes down to the choice between even food or getting things for the band, music wins every time."
Steve has been homeless several times. While he has found life to be an adventure, crashing at different friends' houses, he understands there are folks in the world that aren't so fortunate, and he's interested in helping hardcore homeless folks find some comfort in their day-to-day lives. It is important that Steve and band mates spend their money on their music "finding gigs, promoting gigs, and traveling to gigs. And now that Paradise Alley have played almost every rock club in England, and nearby Scandinavia, they are spending even more money to set up a touring base in the United States.
Helping out is their record company, Delinquent Records, the Alabama-based label that has found a ton of encouragement from the media and music industry in the past year. "We've been to the states once before," explained Steve, "Although we played some shows, it really wasn't to tour but to make connections. We fell in love with New York City, especially. Kismer with the Big Apple was inevitable for the band."
When Paradise Alley formed in 1992, they were influenced by the bands that Steve grew up with New York Dolls, Rolling Stones, Hanoi Rocks, Aerosmith and the Sex Pistols "all of whom had some home base and influences in the New York City music scene. "In so many ways, New York City is our spiritual home. The bands that inspired us include The Dolls, Blondie, the Ramones, Voivods, Dead Boys, Velvet Underground, Television and Electric Angels. Movies also influenced us, and our favorite actors are Marilyn Monroe and Frank Sinatra. I also love Sinatra's music.
Paradise Alley has a couple of recordings that are circulating throughout the world. First release was a three track cassette promo which includes a cover of Hanoi Rocks' "Shakes."