HOLLYWOOD TEASZE
Glamdolls in Toyland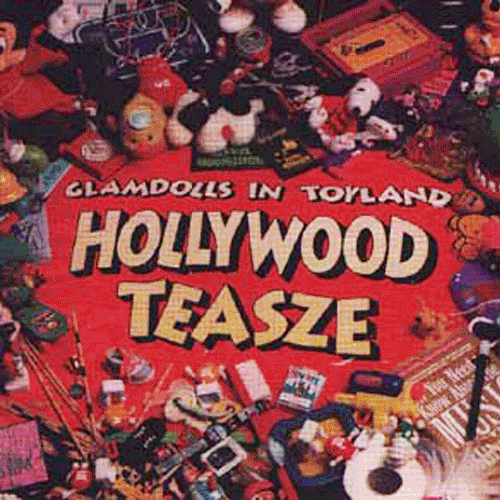 Hollywood Teasze
Glamdolls In Toyland (DROO5)
Tracks
1. Introduction
2. Why Do Girls Always
3. 4 My Parents
4. I Don't Wanna Be Alone
5. R'n'r Pretty Bad Boys
6. All Over Now
7. All Because of You
8. Nasty Girl
9. Lovedoll
10. Go Sometimes
11. You Won't See Me Cry
12. L.A. Diddy
13. Attitude
14. Kiss My Ass Good Bye
15. Epilogue
Band
Chris Lakriz - bass
Frank E. Guitar - guitar/vocals
Harry la Bumm - drums
HOLLYWOOD TEASZE is without a doubt one of the best European glam bands!! It's suprising that they hail from Germany, which hasn't got any deep rooted glam traditions, even though HELTER SKELTER was a great band.
HOLLYWOOD TEASZE was formed in 1990 by Chris la Kriz (bass & vocals), influenced by the LA scene of the late eighties. The other members were Frank E. Guitar (vocals & guitar) and Harry la Bumm (drums). They toured a lot and earned a reputation as a fun and outrageous band. They supported THE BATES, CAPTAIN SENSIBLE and TRASH BRATS.
HOLLYWOOD TEASZE reached a greater audience with their two excellent demos "They might suck ... but they suck real hard!!!" 93 and "The Wonder years" 95. The first is higly recommended, containing a excellent unreleased song - "Don't turn your head".
HOLLYWOOD TEASZE's first cd "Glamdolls in Toyland" (available thru Delinquent Records) was released in 95. They've shot a video for "
LA Diddy
" and considering making a new one, "4 my parents".
Harry la Bumm left the band in late 1996. He was replaced by glam/gothic drummer Andi Hill (ex. BABY DOLLS/ASTRO VAMPS/JAIMZ GANG - the first two are great glam/gothic bands). If this departure will influence HOLLYWOOD TEASZE remains to be seen. If you're into glam/powerpop/punk you must check out this band!
Biography by Andreas Persson, GLAM & GLITZINE (Italy)