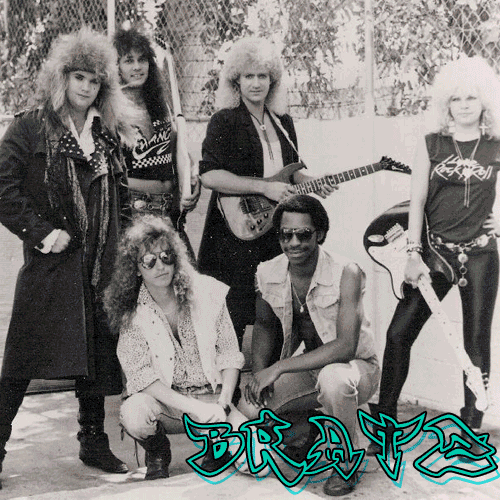 BRATZ
Spoiled Rockin' (DR001)
01. Lonely Hearts
02. Falling into Danger
03. Crankin' Up the Summer
04. The Jungle
05. Video to Go
06. Night Time Outta Line
07. Nice Place Like This
08. Too Hot to Handle
09. Hungry Eyes
10. More Than Meets the Eye
The Band
Raeph Hargrove - Vocals
Chris Shumake - Guitars
Nancy Chandler - Guitars
Glenn Maxey - Bass
Gary Craig - Keyboards
Eddie Ayers - Drums
BRATZ: Spoiled Rockin'
Bratz is a six-piece band from Alabama, whose members are anthing but trouble-making kids. Their image is centered around a "juvenile delinquent" theme. Their single "The Jungle" and "Lonely Hearts," was put out on their own Delinquent Records label, they tour in an old, beat-up, broken-down, over-and-under school bus with "Rock-n-Roll High School" painted on the sides, and all describe themselves as "spoiled brats."
Bratz got their start in the fall of 1984 when guitarists Chris Shumake and Nancy Chandler needed a band to fulfill contracts they had signed for their band Gypsy. So from the broken ruins of the rapidly disintergrating Gypsy, Nancy and Chris set about forming a new band, Bratz, the name for which Nancy discovered whilst browsing through a thesaurus. Singer Raeph Hargrove was recruited from the rival band Zepton. Then, in his turn, Raeph brought in Gary Craig, who started out playing bass. When a keyboardist was required, original Gypsy bassist Glenn Maxey came back, and Gary took over keyboard duties, Drummer Eddie Ayers replaced two former drummers in the summer of 1986; the lineup has since remained stable.
Bratz-LA1988
Chris and Nancy are the main songwriters fot the band, which have been compared to everyone from Def Leppard to Bon Jovi toBlue Oyster Cult. "All of us listen to different music. It's almost hard to believe that we could co-exist musically with such differences. But we do and it's no problem. We've decided not to worry about classification and concentrate on our writing and promoting," so says guitarist Nancy Chandler.
Their songs are about life in general, love, personal relationships, nightlife, having fun, and the girls and guys that the band meets on the road. "To me, a song should have a memorable melody," says Nancy about her writing style. "[A song should have] a relatable beat, and a relatable subject. Everyone's been in love, or infatuated for a short while, or had a night with the that will stay in their mind forever."
They have opened for the likes of Black Oak Arkansas, the Johnny Van Zandt Band, and Brownsville Station. Keep an eye out for these Bratz, 'cause they're always on the road that is when the bus is functioning properly.
METAL-INK Magazine, FRANCE June 1987
BRATZ: The Jungle - Lonely Hearts
/ Ce simple 45 tours suffit pour se convainore de l'extraordinaire envergure de Bratz. Les deux titres sont de petite joyaux tailles dans un style tres americain aux amples melodies et au son pariculierement raffine. Il est si rare de rencontrer un tel professionnalisme pour un premier single que l'on est vite sur de ne pas avoir affaire a une bande de bouffons! BRATZ c'est du serieux!
BRATZ: The Jungle - Lonely Hearts
/ This simple 45 can barely contain the extraordinary scale Bratz. Both songs are small gems sized in a very Americanstyle, with further melodies and sound paricularly refined. It's so rare to find such professionalism for a first single, which is fast not having a bunch of idiots! BRATZ it's serious!
"Musically BRATZ is on a good track. I hear a lot of '70s progressive in your music. There's something worth backing in this group. I wish you all the best. Keep me on your mailing list."
Anne Leighton
Managing Editor
Hit Parader Magazine