GIRLS, FIRE & HAIRSPRAY
Various Artists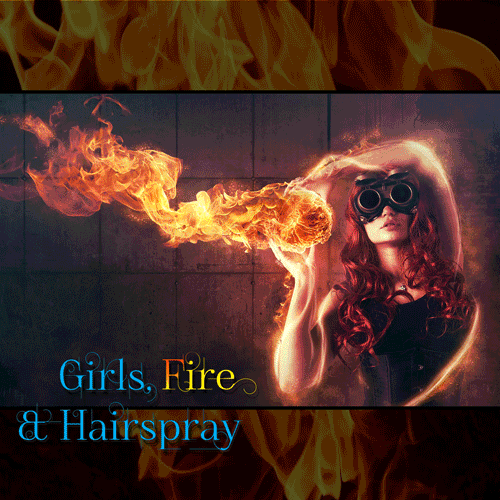 Girls, Fire & Hairspray (DR026)
PROMOTIONAL VIDEOS
Beggarz Fixx: "Burn It Down"
"Beggarz Fixx are a Hard Rock/Sleaze band hailing from Brighton, UK. Since forming in September 2011, they have developed a sound mixing yesteryear's rock and metal with modern elements. With wailing guitar solos, soaring vocals to match, and in-your-face riffs, all held together by a thunderous rhythm section. Having been described as "Not just '80's, 80's and more 80's", Beggarz Fixx do wear their Hard Rock influences on their sleeve but incorporate many other elements into their sound such as punk, blues and even a bit of grunge. During their time, the band have had the privilege of playing many great venues such as Camden Underworld, Concorde2, 02 Academy Islington and 299 The Venue, as well as supporting some high profile acts including Love/Hate, Reckless Love, Mallory Knox and Attica Rage. Beggarz Fixx are hoping to inject some life into the rock scene with their debut EP, due for completion in Autumn 2013, so close your windows and lock your door, a storm is coming."
Sleazy Way Out: "Born to Booze"
Get your liver ready.. We were born to booze! When Sleazy Way Out are playing, the party kicks into high gear.tunes that will make you want to drive fast, drink faster and put your liver through hell! Born in the rock 'n' roll capital of Canada, Montreal, in December of 2011, Sleazy Way Out satisfies a need for a return to kick ass, sleazy rock 'n' roll. Bringing together members of varied musical backgrounds, Sleazy Way Out is the answer for anyone craving infectious tunes with the perfect mix of sleaze and groove. Rehearsals and song writing started in the winter of 2012, with the band concentrating on perfecting the Sleazy Way Outsound. The band has quickly earned the reputation of "a kick ass live band" and Sleazy Way Out continues to win new fans with every show they play!
Smoke N' Mirrors: "Borrow Your Bitch"
Smoke N' Mirrors is a German party band states: "Ladies and Dudes check this out: Are you tired of same ol' same ol'? Then cut yourself some slack and check us out!" Formed in the first days of 2012 - Smoke N' Mirrors are ready to "Kickstart Your Heart" by injecting dirty 80's-soaked Hard Rock right into your brain! Come out - Rock out - Bang your head and prepair yourself to have "Nothing but a Good Time!"
Guiltz N Pleasurez: "Out of Control"
Guiltz N Pleasurez - London UK's newest talent. Old meets New. Guiltz N Pleasurez fronted by Bobby Valentine on vocals, Rockie Steel on Guitar, Lee Downs on Bass and Danny Redlar on drums have made such an impact on the London sleaze scene. Already likened to the likes of Ratt, Quiet Riot, Cinderella, and Poison - these boys are heading in the right direction! Guiltz N Pleasurez songs have had world acclaim from as far as the USA, Canada, Europe and the UK. The single 'Out of Control," "Dr Jack," "Baby be Mine," and Guiltz N Pleasurez new songs are already well noted for their catchiness and pure brilliance.
L.A. Cobra: "Back Roads"
"If you've never heard an African band that recreates that 80's Sunset Strip vibe, then come right this way, because you're in for a real treat." - Valley of Steel Blog Formed in November 2005, L.A. Cobra is the only Sleaze/Glam/Hair Metal band on the African Continent. They are the "Sleaze Rocking Hair Metal Stars" from Pretoria - flying the 80's Glam Rock Flag, making a name for themselves internationally and locally. L.A. Cobra has been let loose to cause a rebellion amongst the youth with their revival of the 80's glam era. Largely influenced by 80's rock bands like Motley Crue, Bon Jovi, White Snake, Poison, Guns & Roses, Kiss, WASP, Skid Row, Def Leppard, L.A. COBRA is all about girls, Harley's, big hair and a good time. L.A. Cobra is Don Cobra on vocals and guitar, Slade on lead guitar, Dean on bass guitar, and Animal on drums. L.A. Cobra brings back live and energetic "balls to the wall" hard rock show. The band's name even boasts the influences of '80s L.A. music scene, with a modern twist. L.A. Cobra has shared the stage with contemporary artists Reckless Love (Universal Records Finland), Stacie Collins (Nashville, USA) and former international acts: John Corabi, Steven Adler, Kip Winger, Blaze Bayley, and Tim "Ripper" Owens known for his stint in Judas Priest. Making a name for themselves, L.A. Cobra brings South African to the international rock music market.
Sleazer: "Coming to Get You"
Sleazer its a Costa Rican Hard Rock band inspired in the 80's hair metal and the early 90's Sleaze metal. Sleazer described themselves as Big, Strong and Dirty! Sleazer's 5-piece sleaze glam line-up is Rodo, guitar and vocals; Chino, lead guitar; Pablo, bass; Andres, drums; and Claudio Fabian, keyboards.
Lagerloudz: "Alive"
Lagerloudz comes from the English word for "rowdy people that disturb the peace!" And, that is exactly what this band does! Since the first concert in the summer of 2010, Lagerloudz has been moving only in one direction: forward. They have performed at some of the most respected concert venues in Scandinavia, and given audiences a run for their money, sharing the stage various Danish and international artists. Dedicated fans follow them faithfully! This band is wild and always ready to get a party started.Lagerloudz get their inspiration from '80's Glam Rock and Modern Sleaze Culture. That means hard pumping guitar riffs and catchy refrains, spiced with an impressive stage show from start to finish. Lagerloudz consists of four musicians wearing tight pants, rivets and dark eyeliner. They are always ready to rock any time they step on stage. The lyrics in their music are all about frustration, aggression, rebellion and of course love. Pain Punch's vocals manage to hit even the rear audience, with his unique ability to convey the emotion of the music. At his side, we find the attention-grabbing Terror Trucker, who delivers a solid bass and backing vocals. Watch out for this guy, as he's known for making forays into the audience carrying his trusty bass guitar with him! Guitarist Badass Birch impresses with amazing guitar riffs and red hot solos. The final member of the band is Stixx Starr, who skillfully steers the battle from behind his wall of drums.
Tongue 'N' Cheek: "Kandi's in Love"
Tongue N Cheek is a hard rock band based out of Pittsburgh, Pennsylvania. They encompass the hard rock styles of Poison and Def Leppard and the party cocksure attitude to match.
Eden Burning: "Nothing's Good Enough"
Eden Burning is a hard rock act based in San Antonio, TX. The sound is a loud gritty Vocal sound with the crunch of blaring guitar leads and hard driving Rhythm guitars and sing along arena rock choruses littered throughout there debut CD. "Banged Up N Dirty" the bands first release has gotten the group many prime slots opening for national acts such as Dokken, Great White, Bret Michaels, Steven Adler, Saxon, Faster Pussycat, Tesla, and many more including touring cross country and opening slots on festival gigs. Currently 8 tracks off this debut cd are in rotation with KHRN FM in Dallas syndicated in over 10 countries and bringing the band over 45,000 twitter followers and numerous visits to there website on ReverbNation where they remain the number #1 rock band 7 months straight. The song " Nothing's Good Enough" featured in the Delinquent Records Sleaze Rock CD: "Girls, Fire & Hairspray" is also accompanied with a music video to the song available on You Tube.
Kixxer: "Heart of Ice"
The 80's saw the birth of Glam Metal when bands such as Motley Crue, Def Leppard, Whitesnake, Kiss, and Van Halen dominated the Hard Rock scene. Kixxer adored big hair, make up, sex, drugs and having a fucking good time! Kixxer plan to bring back this style of sleaze rock with a modern twist. updated, and infused with their own brand of energetic personality, making their shows more entertaining than the status-quo post-grunge, apocalyptic alternative shoe-gazer bands.
Black Stone Hearts: "Satisfaction Guaranteed"
The Black Stone Hearts came together on Friday the 13th May 2011. Spawned out of the past lives of countless Ottawa bands, the Black Stone Hearts find their influence deep in the blues and the British/American hard rock of the late 60's and early 70's. They are also heavily influenced by early punk, heavy/thrash metal and grunge. Fed up with the bland faceless post grunge formula rock, Black Stone Hearts came together to create rock 'n roll in a way reminiscent of Led Zeppelin & AC/DC, and delivered in fashion the world hasn't seen since the days of Guns n' Roses.
Doctor Scary: Rebel Without Applause
Doctor Scary is a lead guitarist/singer/songwriter from Pittsburgh, Pennsylvania. In 2013, the good Doctor released a 6-song EP entitled "Rebel Without Applause" featuring his stellar lead guitar prowess, savvy songwriting skills, and charismatic lead vocals. Doctor Scary is the complete package as the sole instrumentalist including keyboards, and of course, all of the guitars. Speaking of which, Doctor Scary is endorsed by
Kramer Guitars
. Influenced by guitar players like George Lynch, Warren DeMartini, C.C; DeVille, and Nuno Bettencourt. Doctor Scary is sure to be listed alongside his contemporaries in the very near future!
Silent Jack: "Going Down"
Silent Jack is a hard rocking sleaze band from the heart of the midlands with the attitude, style and bad ass music that will make any individual cry out in climax. Silent Jack are playing to audiences not just in Birmingham, but also across England with rocking stage performances and down and dirty music. Influenced musically by classic rock like Deep Purple, and The Jimi Hendrix Experience, but with the hard rocking metal attitude of Guns N' Roses or Motley Crue, live shows put audiences on a sonic roller coaster. According to Silent Jack, "we all know that the 80s Sunset Strip era is gone, but that doesn't mean that we can't have a little fun.!" Silent Jack brings it all to the table and always promises to give their audience a night to remember!
Hollywood: "Cryin' Shame"
This could be the breakout year for Columbia SC rockers HOLLYWOOD. In 2012 the band placed their single "Here's Lookin' at You" on the SLR Records compilation with distribution through Warner/Electra/Atlantic Records (WEA). The arrangement will grant HOLLYWOOD steady radio play for "Here's Lookin' at You" in all major markets. The deal for the compilation came when HOLLYWOOD was discovered on MySpace. (Myspace.com/hotwood) HOLLYWOOD has been gearing up to hit local bars as well as throughout the region. SLR/WEA has plans to service their first single at over 400 college stations nationwide. HOLLYWOOD has proudly taken part in great projects for our troops and local police, lending time and music to The Forgotten Soldiers Project, and Fallen Blue Police.
HOLLYWOOD Is: Phillip Smith, Lead Vocals; Aubrey Rucker - (Drums, Vocals), Ty Allen - (Bass Guitar, Vocals), Bill Rivers - (Guitar, Vocals)
Eightball Voodoo: "The Devil's Country"
Eightball Voodoo bids the world "Welcome to the Rock 'n Roll Freak Show!" - waving the banner of Sleaze Rock, this band is whisky drenched and hell spawned! Eightball Voodoo features former members of JackViper, The Soho Roses, Mouthful of Flies, Band 'o' Gypsies, and Misericord. Formed in late 2010 by front man Jay R., the line-up was quickly filled by Rob Silver on lead guitar, Deangersmith on rhythm guitar, Robi Smith on bass, and Ralph Margo on drums. The members of Eightball Voodooconsider themselves international rogues as they span the globe, living in Australia, Canada, England and South Africa. Jay R.'s former band JackViper were one of the major players in the U.K sleaze rock revival, and his goal was to carry on the new breed of sleaze rock infused with the late '80s metal and punk influences. The Voodoo released a controversial cover of the traditional English football song "Blaydon Races" late in 2011 and showed that they are not afraid to push the boundaries and do the unexpected. With a series of releases, videos, and tour plans for 2012/2013, Eightball Voodoo are gaining momentum and notoriety. Eightball Voodoo doesn't compromise and don't give a fuck about trends. This is loud, nasty, sexy heavy sleaze rock from Hell!
Suicide Tuesday: "Church of Sin"
Suicide Tuesday was formed by guitarist Oz Paul, and bass player Jonny Suicide in Nottingham England in July 2007. Oz had been out of the music scene since the late 90's and decided that he need to get back out there and get himself heard so he put an advert online looking for like-minded musicians. Jonny, having also not been involved in a band for a number of years, saw this ad and Suicide Tuesday was born. Their mission was to bring dirty rock n roll kicking and screaming into the 21st Century. With a little nod towards the 80's but a major foot in the here and now Suicide Tuesday set about hauling rock from its knees back to where it belongs. After a couple of lineup changes and an EP (recorded with original singer Enrico and drummer Mickey) Suicide Tuesdayhired local Nottingham singer Rikki Valentine, and drum prodigy Lukas James, and have never looked back. Suicide Tuesday have shared the stage with a number of high profile bands including Faster Pussycat, Enuff Z Nuff, Crashdiet, Wratchchild, Heavens Basement, The Treatment, Jettblack, Bonafide, Love/Hate and Thin Lizzy/Almighty vocalist Ricky Warwick. In May 2011,Suicide Tuesday headed off into the studio to record their self-titled debut album with producer Kevin Hopps and released worldwide to critical acclaim in December 2011.
The Toxiks: "No Rest For The Wicked"
Self-described as "when alchemy and witchcraft combine," The Toxiks arise from the ashes of Lust Boys and Static in the Stars. Boasting the motto, "Making music we like," The Toxiks is three individuals from three different areas of Canada coming together from past projects to create music that satisfies musical expression once repressed. The Toxiks is lead vocalist Jayme Black, with guitarists Brian Comeau and Joe McLeod.
V.I.P: "Teacher Teacher"
V.I.P is a 4-piece Glam/Sleaze band from the North East of England. They formed in November of 2011 and by March 2012 had begun work on their debut album, 'Let's go for a Ride.' Tait Donaldson lays down fast, energetic and lively drumbeats, Jack Burn sings gut-busting vocals, Jonathon Brown plays heavy but technical baselines and Ewan Clementson lays down some ripping guitar solos!